Toilet, food, and comfort are basic needs for any pet. If you have decided to become a careful parent for a small kitten or adopt an adult cat, you should be ready for litter box training. For most pets, toilet affairs are not a difficulty because their instincts help them to get used to new conditions from the first days.
Nevertheless, you may face some complexities if your preparations for the litter box training are insufficient. Meet this situation head-on – here are some helpful recommendations for those who would like to create the best environment for their pets and give to the beloved fluffy friends some pointers on doing hygiene procedures at home properly.
Must-Have Suppliers You Need to Have
If you would like to develop good toilet habits of your kitten, purchase all necessary suppliers beforehand. Besides comfortable bedding and bright toys to please your young cat, buy in the pet shop the following things:
Litter Box Training: Your Step-by-Step Guide
Litter box – it is better to make a purchase of several toilet trays at the same time. If you have a spacious house, place two or three litter boxes in different rooms. Choose toilet trays with boards first. These models are suitable for tiny kittens because it will be much easier to get into the litter box for his or her calls of nature. Additionally, put the litter box in some calm and protected place from the noise and attention of other family members. This way you take care of the personal privacy of your cat when it comes to any toilet needs.
Appropriate litter – it is very important to find the most comfortable filler for the kitten's toilet tray. Note that some pets get used to clay litter instead of pine pellets that make it possible to get rid of unpleasant scents better. Make the transition period more convenient for your cat. Use its favorite substance for the litter box and mix it from time to time with eco-friendly granules. Do not buy fillers with aromas – the unscented ones are the best choice.
Tasty treats and other merit awards – each successful toilet procedure in the litter box should be fostered. This way you stimulate your four-legged pet to do his business in the proper place. Use delicious treats, buy new toys, pander your kitten, and tell him or her pleasant words. Your small kitten will understand that after each new experience in the litter box some yummy snacks and cat food treating take place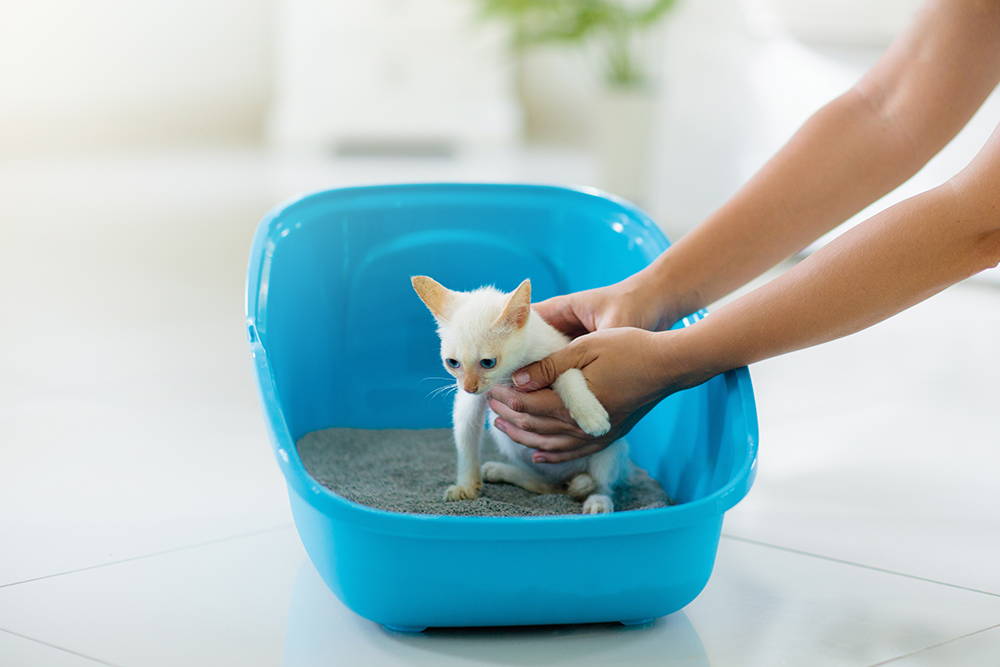 Place all the litter boxes in the house.
Show the cat's toilets to your pet.
Let your kitten examine the litter box.
Foster your fluffy friend's interest in the toilet.
Stimulate your cat's bio breaks – place your pet inside the litter box after the meal.
Put your kitten into the cat's toilet right after your babe wakes up.
If you mentioned some crabbing, sniffing, or other distinctive movements, place your pet inside the toilet tray as well.
Show your gladness when your kitten has done his or her business in the proper place.
Treat your pet with yummy goodies or present a new toy for the brilliant toilet experience.
Do not punish faults – explain to your pet that the call of nature should take place in the litter box.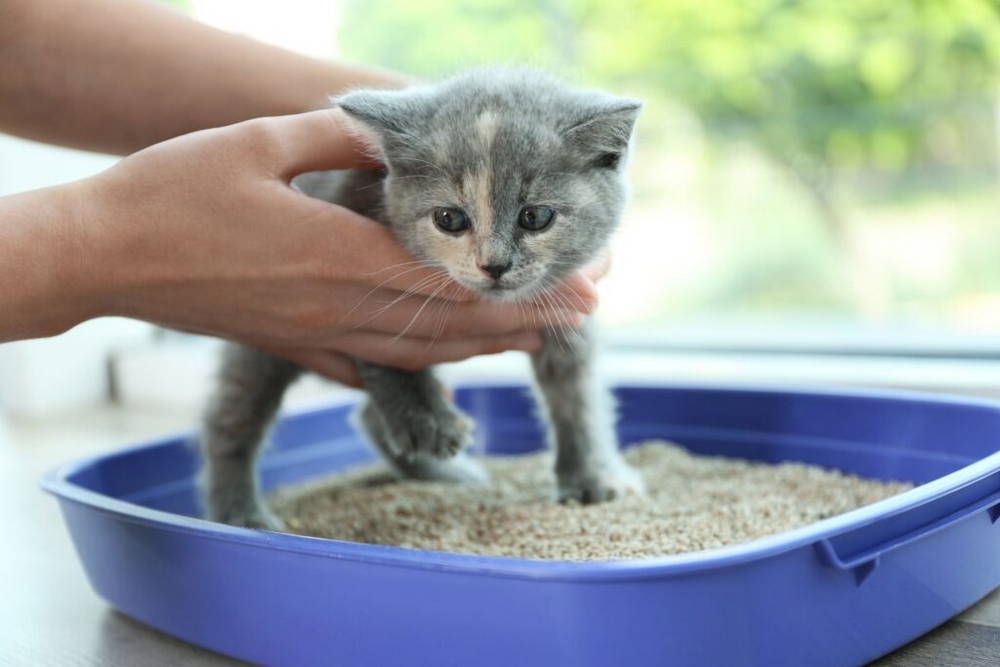 How to Train Adult Domestic Animals?
If you have decided to adopt an adult cat who lived and do all his toilet businesses outdoors, be ready to train your new pet. Introduce the litter box carefully. It is worth mentioning that adult pets who lived outdoors and now should take their bio breaks in the house require natural fillers like soil or sand for the first tries.
Remember that cats are curious and intelligent animals who understand well their instincts. The litter box will not deliver extra difficulties to your routine life. Any adult cat will find the toilet tray even more comfortable than previous conditions.
Cleanliness is Next to Godliness
Do not pass up the opportunity to clean the litter box timely. Your pet will feel more comfortable in the toilet tray with clear litter granules. Additionally, you will do away with any unpleasant smells fast. Do not forget to disinfect the cat's toilet regularly. For this purpose, use unscented soap and warm water or the mild solution of H2O and vinegar. The tray should not produce extra odors because this fact can make your pet afraid of unknown smells.
More Helpful Tips: Up Against Troubles
We recommend preparing for some difficulties. If you are ready for troubleshooting, any complexions will come to an end soon. For example, adult cats can start marking new territories. You should avoid physical punishments but show to your pet that you are disappointed with such behavior.
If we speak about kittens, be attentive to their toilet needs. Clean well all the places where some accident took place. You should fight off all the pet's odors to demonstrate that this is an inappropriate place for toilet breaks. If you see that the litter box is located in the uncomfortable corner for your kitten, change its placement as well.
Some old cats can experience issues with their natural needs because of their age. First, buy the tray with low borders to help your fluffy long-liver get into and climb over the litter box easily. Consult your vet to exclude the possibility of urine infections and other disorders of the urinary tract. The competent veterinarian will examine your pet and find the problem that bothers your beloved four-legged friend. Some diseases do not require operating measures but only medical treatment for a couple of weeks. Several therapy courses will be enough to help your domestic animals.
We hope that your litter box training will last a little time. The most necessary thing for your relationships is harmony. Give an ear to the needs and issues of your kitten. If you aspire to become a careful parent and a responsible pet master, pay heed to the requirements of your young and adult cats. Our recommendation will simplify any stage of your toilet tray training. Rhyme with your pets and explore this world together! We wish you mutual understanding and new achievements!